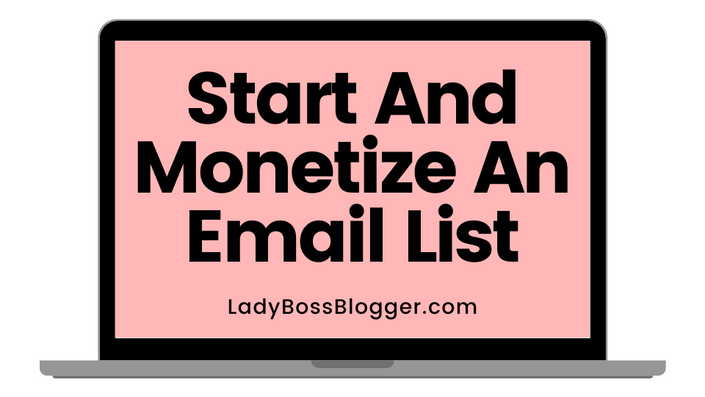 How To Start And Monetize Your Email List
Turn Your Followers Into Loyal Subscribers + Customers
Enroll in Course
I went from 0-14K subscribers in one year - 100% ORGANIC without paid ads.

In my course, I'll show you how you can do it too!
Below is a screenshot of my ConvertKit account.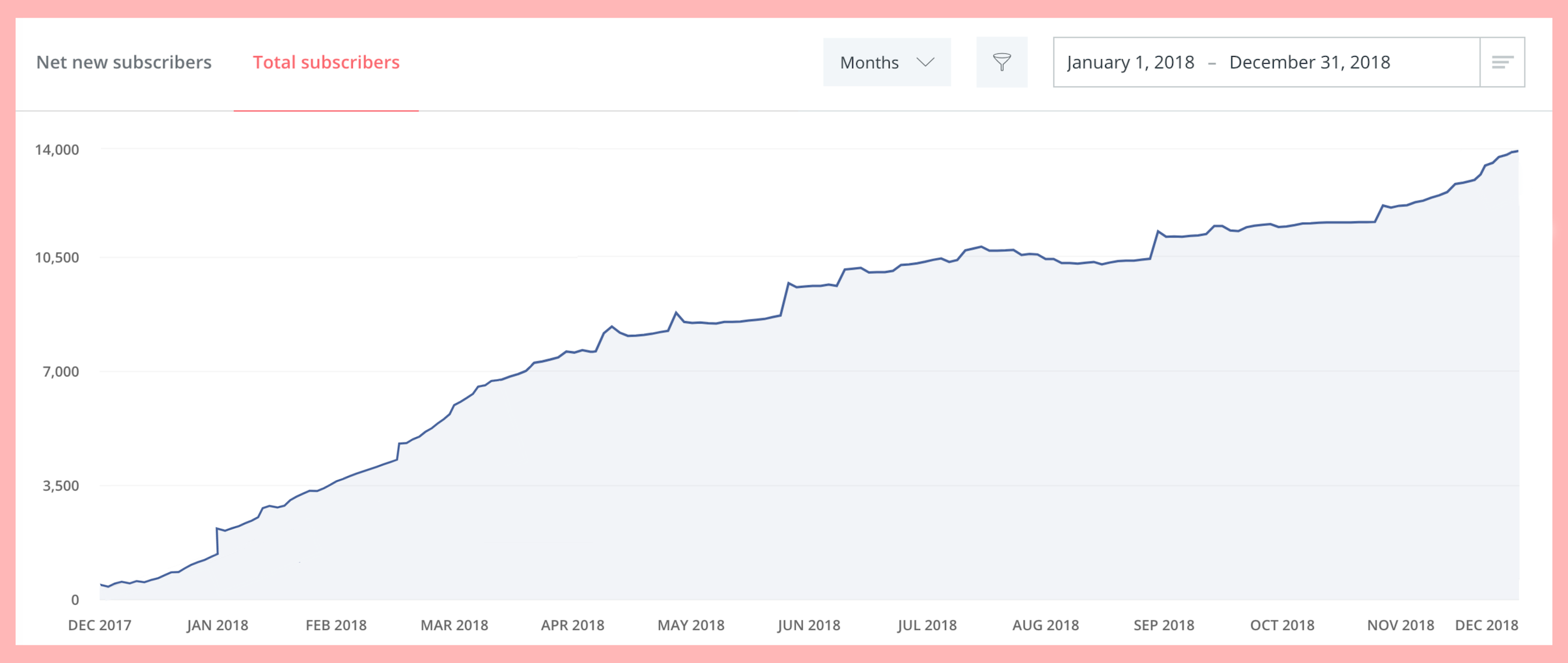 I actually worked on my list long before I had a product, so don't worry if you have no clue what you'd like to sell... your audience will actually TELL YOU.
Before I had a product, I created daily content on my blog and shared the best posts with my email list every week which built up my trust factor and gave my audience incredible value.

WHY did I create this course?
Because at the beginning of 2019, I asked my audience what they wanted from me and this course is what they wanted! So I produced it! :)
See the email below that I sent out on January 10, 2019.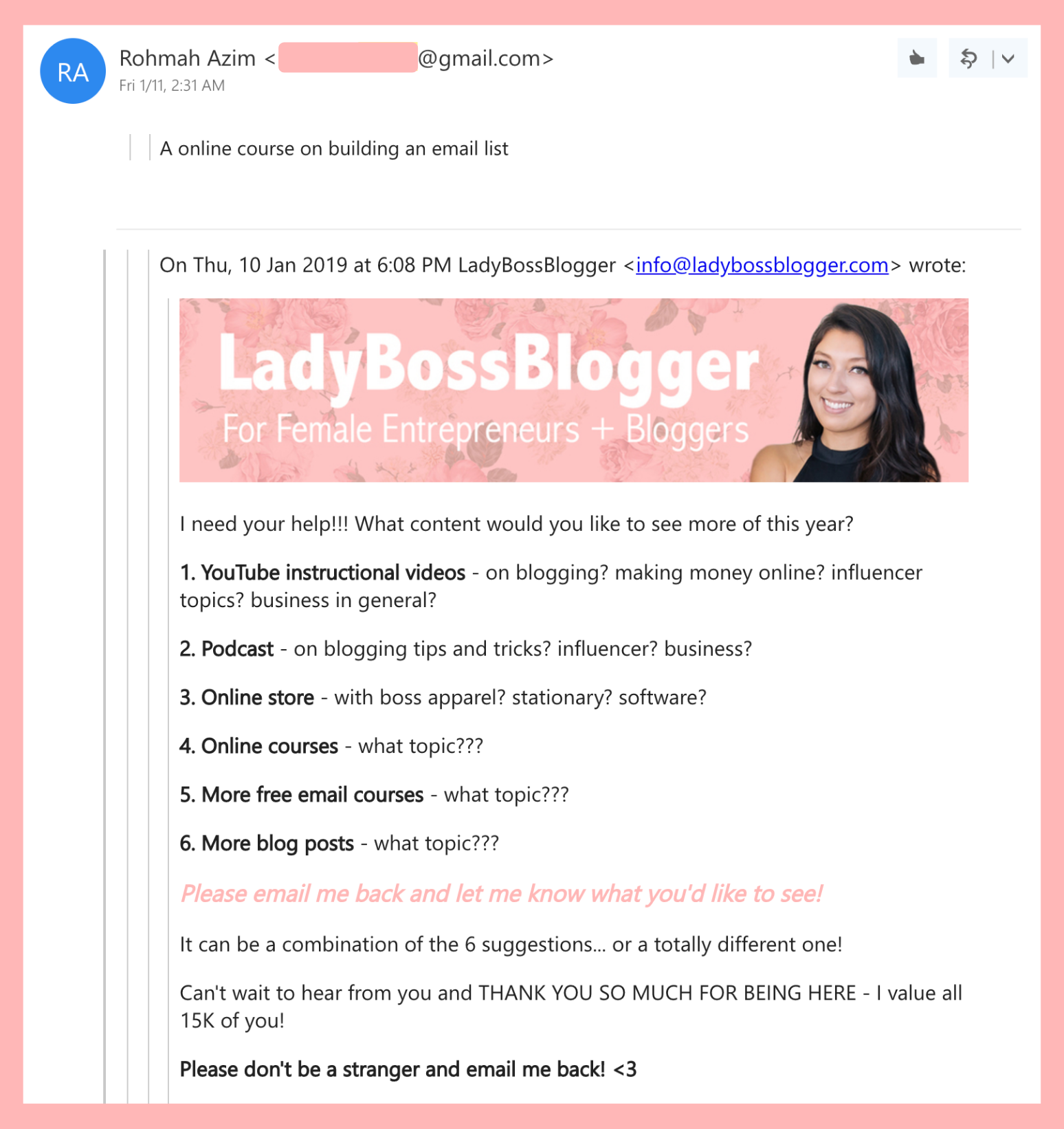 Why is building an email list so important to grow an online business?
72% of U.S. adults prefer email over postal mail, TV ads, newspapers, magazines, text messages, social media and in-person communication as a channel of communication with companies.
91% like to receive promotional emails from companies with which they have a relationship.
69% of respondents made purchases influenced by promotional emails.
Plus, who owns an email address?
Probably EVERYONE YOU KNOW.
My students from my courses often tell me that they are nervous about sending emails because they don't want to come across as "salesy" or too pushy... but the stats speak for themselves.
91% ACTUALLY LIKE TO RECEIVE PROMO EMAILS!
I always tell them, if people don't want to be on your list, they will unsubscribe! If they are on your list, it means THEY REALLY WANT TO BE THERE and they like your emails!
Of course, you need to be tactful and tasteful in how you promote your products and mix it up with other content marketing pieces, but this is a learned skill that comes with trial and error... which means sending more emails to test what works and what doesn't!
The key point here is that you TRY NEW THINGS.
Try out this course, if you seriously learn nothing at all, return it within 30 days and get your money back!
But if you buy it, like it, learn from it, get the results you want and START THAT ONLINE BUSINESS that you've been talking about and thinking about for ages, I don't think you'll regret starting today to make a better future for yourself.
Instead of scouring the Internet for business plans that may or may not work, I have one that has been tested on almost every niche and is guaranteed to work... as long as you do the work I have outlined for you.
If you're struggling to build your email list – know that you're not alone.

IT'S EXTREMELY HARD to grow an email list, which is why you need to utilize proven techniques that actually work.
Despite how difficult it is, it's essential to learn because it's the #1 money maker for online businesses.
Why?
When people sign up for an email list, it's because they either know or they feel like they will get more value from the person or company when they do... which means they have already gone from being a cold lead to a warm lead.
By emailing them and NURTURING your list, you will create HOT LEADS aka clients. That is basically how to utilize email marketing in a nutshell and why it's so effective.
When we are in communication with the same people everyday and they CONSISTENTLY deliver amazing content, we slowly start trusting them and looking forward to what they have to say right?
Then when you email about your product or service details - people already trust what you have to say and are more likely to purchase your stuff.
Now you may say: "Why do I need their email if they follow me on social media?"
I launched this course on March 13, 2019... the day when Facebook and Instagram BOTH shut down.
No one could have anticipated this event that has rocked us all to our core LOL, but if I hadn't built my email list, I would have been FREAKING OUT along with the rest of the world.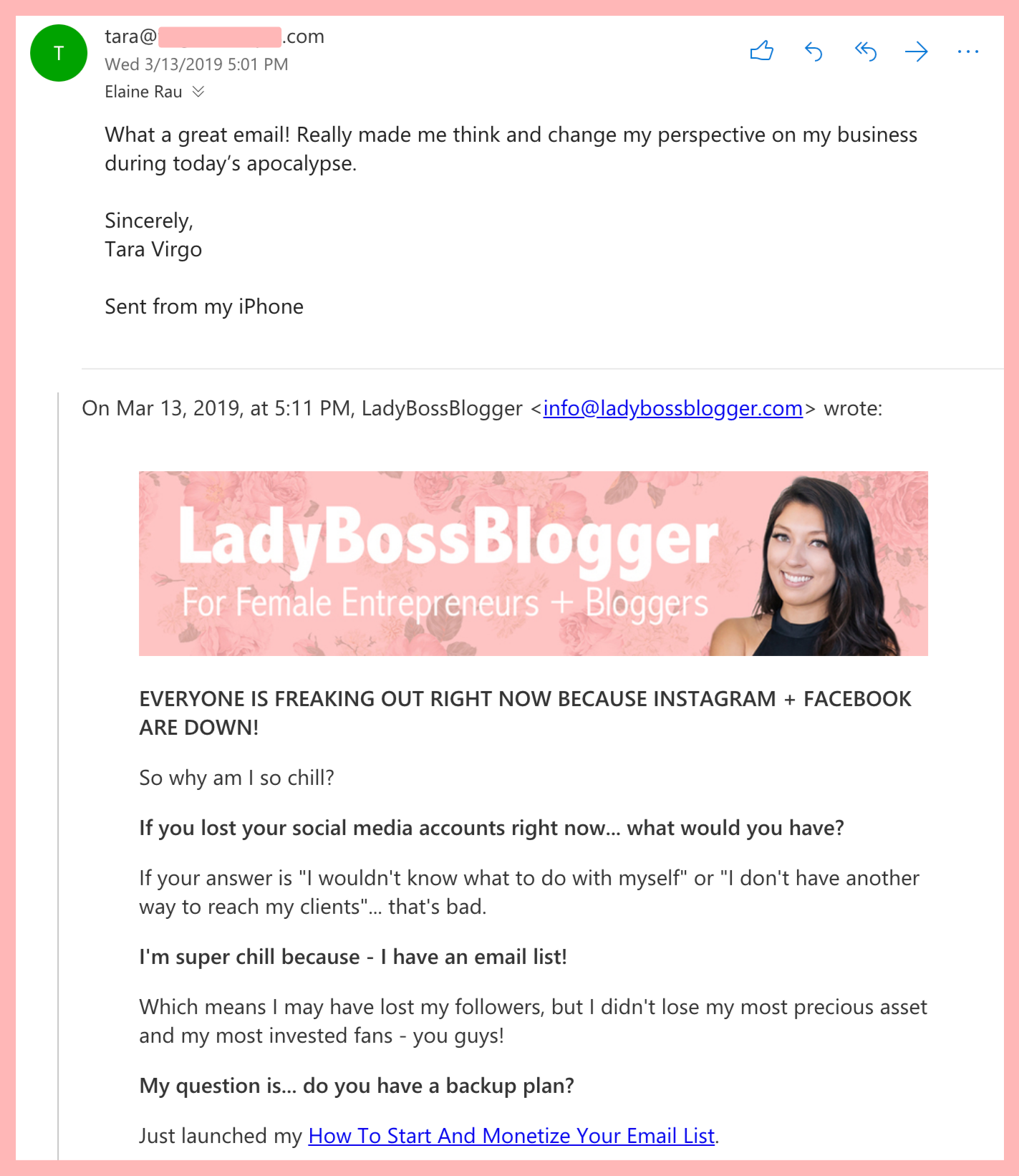 Even if you don't have a product yet, it's best to start your list BEFORE - that way you have an audience to sell to once you have a product!
If you already have a product or a service and you don't have a list. I'm sorry to tell you this, but YOU'RE BEHIND and losing out on a lot of money my friend!
If you don't have a product and want to create one, sign up for my Money Making Blog Course, I also teach how to create your own online store and tap into e-commerce in there.
If you're interested in creating an online course like this one, I teach that directly in this course so that in addition to learning about building your email list, you're also creating your first product!
List building + course creation go hand-in-hand, however, it doesn't matter how good your course is if you don't have an audience to sell to, therefore the ORDER of how you do everything is important!

Below is someone on my email list who followed my advice on which online course creation tool to use (it's Teachable btw).

What is your biggest asset in life?
YOUR TIME.
It's the one thing you can't "make more of" or "get better at".
How can you use your biggest (yet limited) asset to build another asset?
Don't waste your precious time!!!
Learn from those who have gone before you... who want to help you (this is key).
Building a profitable email list is a SKILL you can DEVELOP with the right training.
Plus seriously, if you really truly learn nothing, return it within 30 days and find a better course suited for you.
I had no idea the opportunities that blogging would bring me until I bought my website, LadyBossBlogger.com less than 2 years ago.
Think two years from now, where do you want to be?
Will anything change if you don't take action to learn something new?
NOTHING comes from INACTION.
A dream will stay a dream unless it's FORMED into your reality.
Are you ready to start learning already?
Let's dive in!
Join other happy students who have already started monetizing their email lists!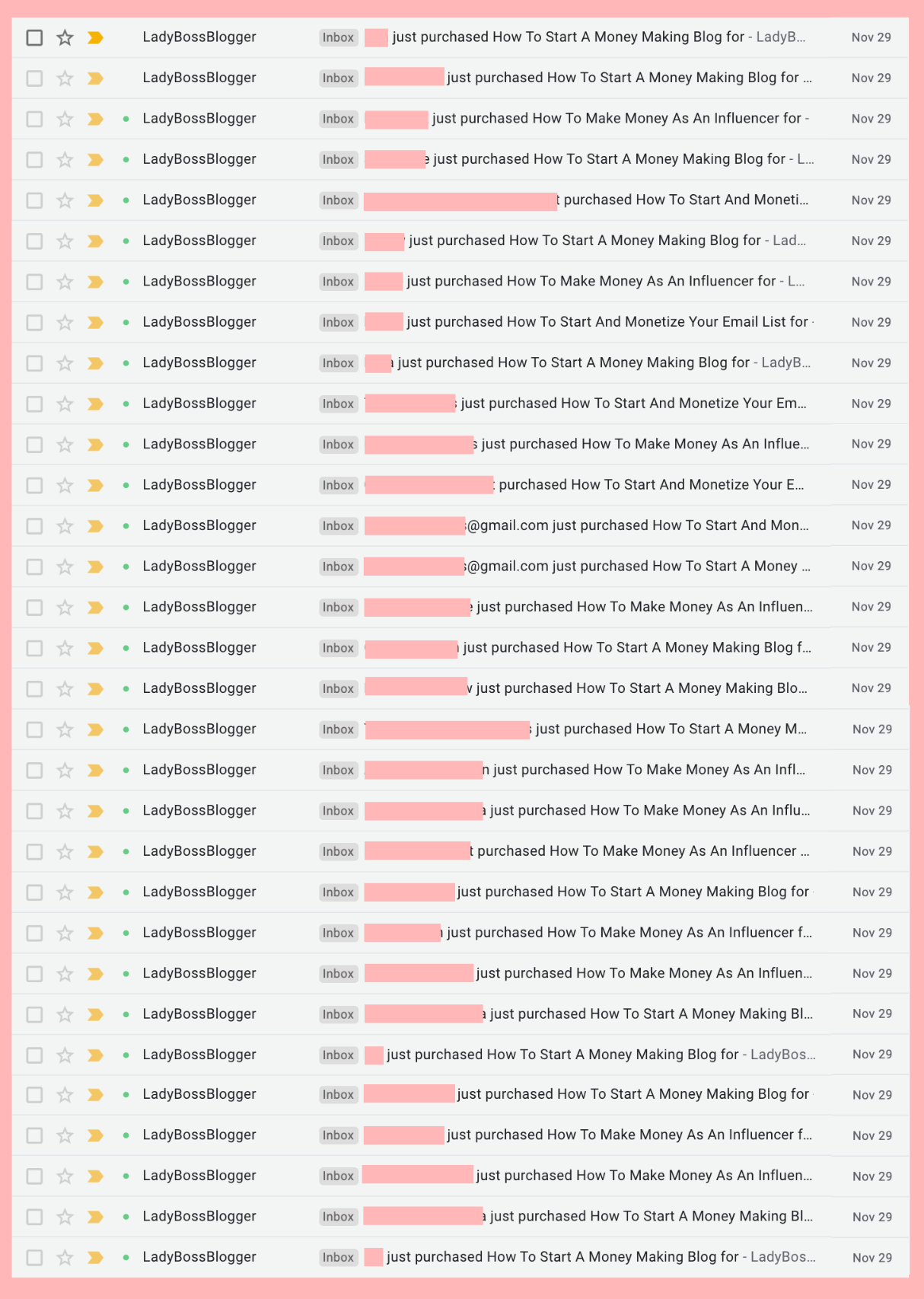 Your Instructor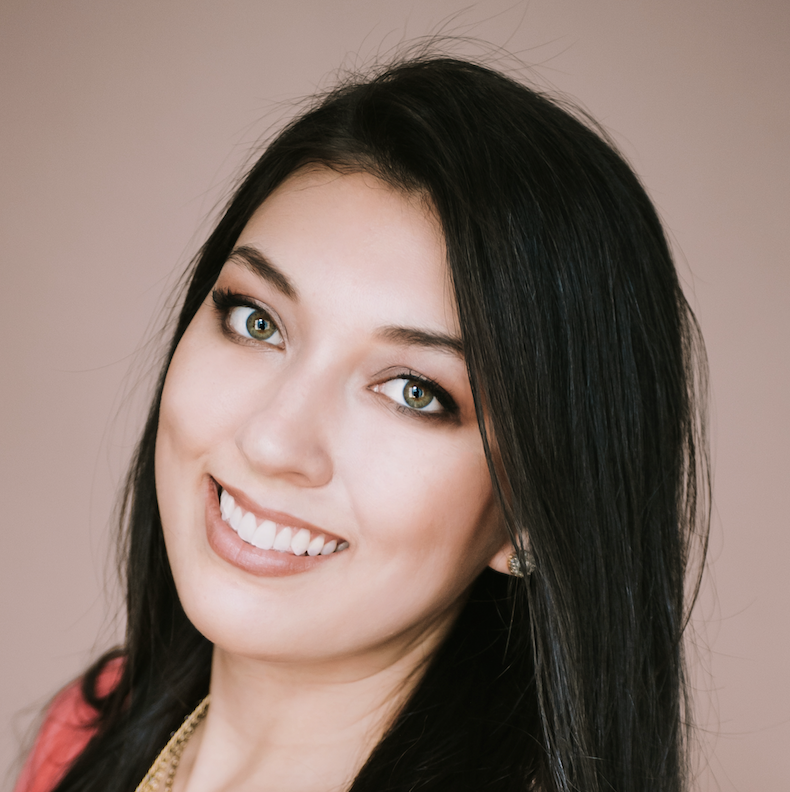 Elaine Rau is an award-winning blogging and Instagram expert. She has taught her strategies on stages all over the world and has compiled them into courses for people to access from home. Elaine has an audience of 300,000+ followers across all her social media platforms and has been featured in 500+ magazines, books, and publications including Forbes, Entrepreneur, Huffington Post, and Authority Magazine.

Course Curriculum
3. Opt-Ins
Available in days
days after you enroll
Frequently Asked Questions
When does the course start and finish?
The course starts now and never ends! It is a completely self-paced online course - you decide when you start and when you finish.
How long do I have access to the course?
How does lifetime access sound? After enrolling, you have unlimited access to this course for as long as you like - across any and all devices you own.
What if I am unhappy with the course?
We would never want you to be unhappy! If you are unsatisfied with your purchase, contact us in the first 30 days and we will give you a full refund.