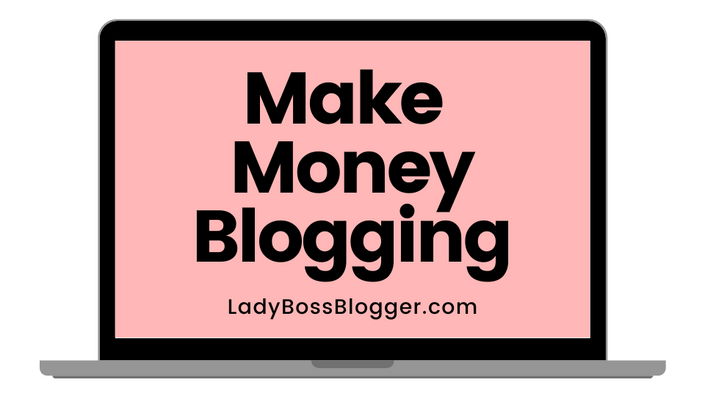 How To Start A Money Making Blog
From start to finish the exact steps to growing and monetizing a blog
Get Started
Have you been blogging for a few years?
Or are you totally new to the blogging world?

I have had students who were total beginners to experienced bloggers take my course who have been SHOCKED at how much they have YET to learn about blogging professionally and profitably.
Would you like to continue scouring the internet for answers or shave off years of stress and uncertainty by completing the step-by-step blogging course I have put together for you?
Most bloggers start a blog... then try to come up with a strategy to make it a business.
Without a business plan + marketing strategy + profitable systems engrained in the FOUNDATION of your blog, you'll waste a lot of time spinning your wheels and backtracking to fix your blog's foundation so that it can be profitable.
It can still be done, but why not start NOW so you waste less time and make more money?
There is no better time than now.
You're not going to magically "have more time" in the future to dedicate to starting a blogging business... instead you have to PRIORITIZE and MAKE TIME NOW if you want to change your future.
"Where you are a year from now is a reflection and collection of the choices you make RIGHT NOW."
If you would have told me 3 years ago that I would own my own business and work from home full-time, I would have laughed so hard because I couldn't envision it... but now it is my reality, because of what I CHOSE TO PRIORITIZE.
Mark Twain said it best, "To change your life, you need to change your priorities."
I've taken that advice and have changed my own life around.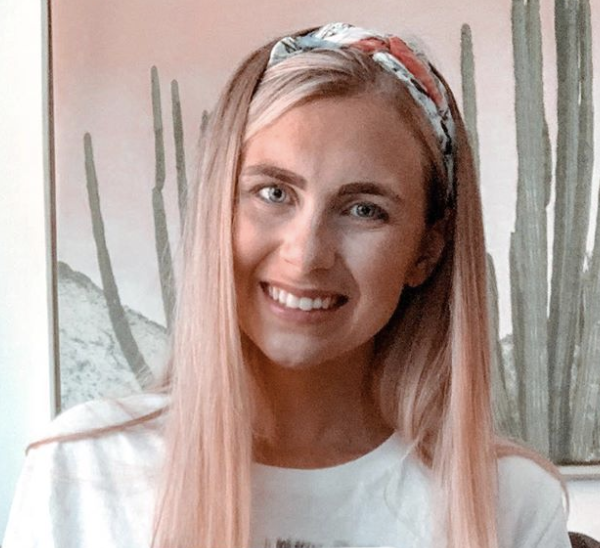 After one month of implementing what I have learned in this course, I have seen some INCREDIBLE RESULTS. My page views are up 20% in just one month! Craaaazy. Google is now a huge source of my traffic! This course is so detailed, so jam-packed, if you follow all the steps laid out for you, it's almost impossible to NOT make money! Making it 100% worth the cost!
- Katie Marshall

Did you know that there are 50+ nontraditional jobs that pay just as much (or more than) the average salary?
Some of the top ones include...
Blogger
Affiliate marketer
E-commerce store owner
Freelance graphic designer
Handmade crafter
Online teacher
Product reviewer
Social media manager
Virtual assistant
Freelance writer
All 10 of the jobs listed above are best done in conjunction with a blog.
Why?
Because of SEO.
What is SEO?
It stands for Search Engine Optimization.
It is how people find your business or personal brand on Google...
And you need a blog + SEO strategy to help you do that.
When you optimize your blog CORRECTLY, you get found online ORGANICALLY.
So... how searchable are you online?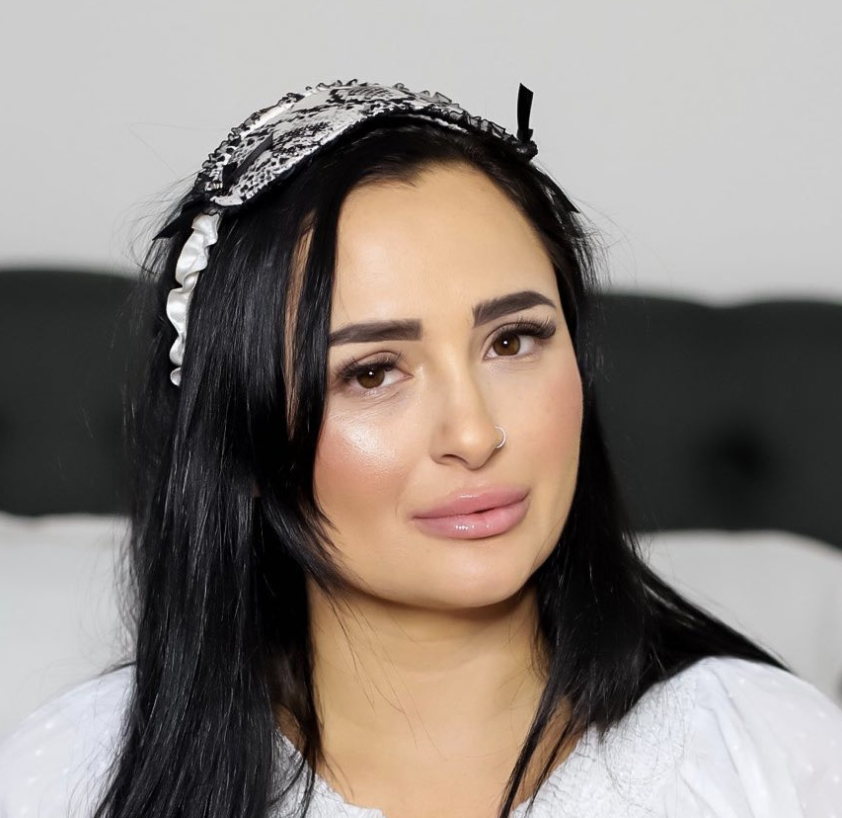 To be honest, I wasn't sure what I could learn from a blogging course since I thought of myself as an experienced blogger. But I couldn't have been more wrong. I was also able to land a partnership with my dream brand Crayola because of Elaine's course! You can tell she put her heart and soul into creating it and you can expect real results.
-Stephanie Vainer

I'm here to help you get the RESULTS YOU'VE BEEN YEARNING FOR.
Everything that I teach I have implemented in my own blogging business, which is how I know my strategies work.
My confidence also comes from the success of my students.
Your success is my success.
Before I started blogging, I worked in the wedding industry.
I was the National Wedding Sales Manager for a global company in Corporate America.
It was my dream job.
My job was my life and I worked 24/7, but I loved what I did so it never felt like work.
However, it all came crashing down when I received a devastating phone call from my boyfriend.
His older brother had been missing for a week and he was calling me with an update.
He told me he found his brother's body… he had been murdered.
We had just spent Christmas together in Honduras and were getting ready to celebrate his 28th birthday in January.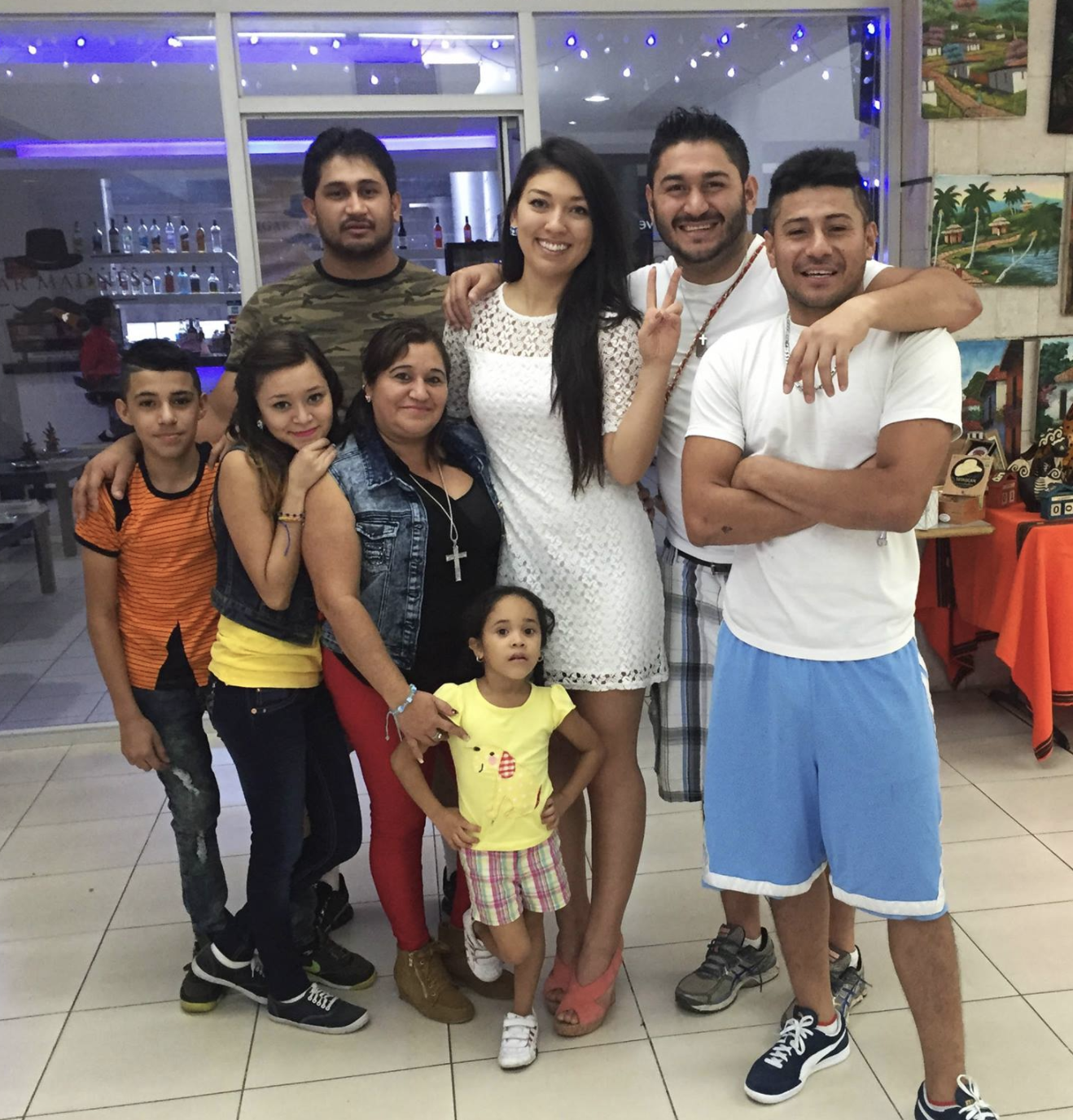 I immediately called my boss and asked if I could attend the funeral in Honduras.
But his response shocked me.
He said NO… because it would affect sales.
I realized at that exact moment that I was merely a dollar sign to the company.
So I quit.
I packed my life up in 2 suitcases and moved to Honduras the next day.
However, I didn't realize how hard the transition would be.
I had left my home, my friends, and my job (which was a huge part of my identity), and had moved to a developing country where I didn't speak the language or understand the culture.
My "wedding industry skills" and sales skills were all useless there and I started to feel extremely isolated.
The only person I could talk to was my boyfriend and he was going through a rough time.
So I started a blog as an outlet for me to learn how to make money online and become a LADY BOSS BLOGGER.
When people started flooding my inbox asking me how I scaled my blog so quickly and started my own business with just $12.18, I decided it was time to compile all my best strategies into a simple step-by-step online course.
If I can do it, so can you.
I'm just an ordinary girl who was pushed to think outside the box because of my circumstances.
Starting a business is actually quite simple and boils down to 3 steps in this order:
Learning from the right people
Implementing the right strategies
Working hard towards your goals
I have compiled all of my successful strategies into my courses so that you can STOP wasting time and START making money as a blogger.
Oh yea and if you're wondering what happened to my boyfriend and I…
We got married at The Micah Project a year later.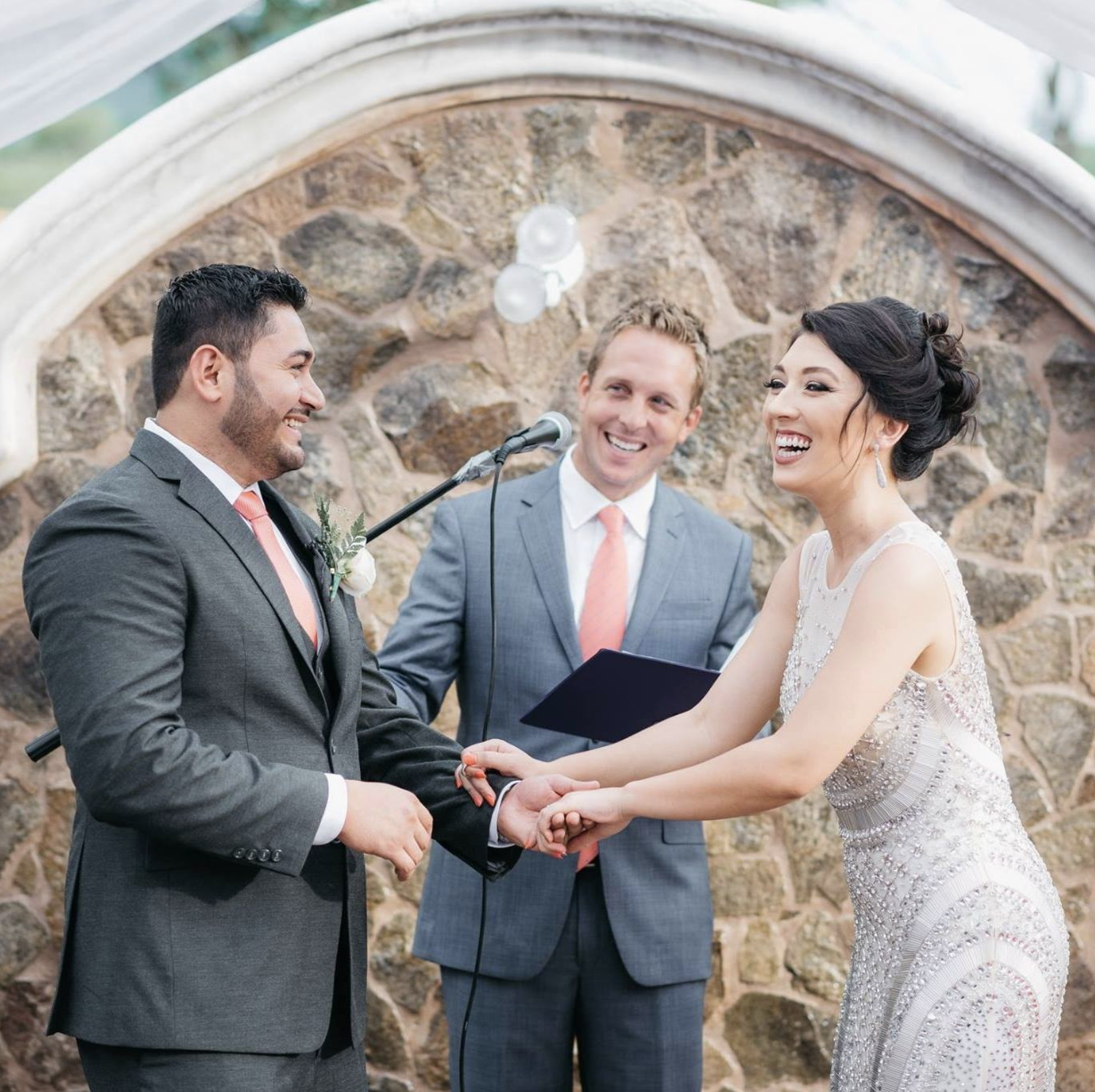 A portion of all proceeds from LadyBossBlogger goes to The Micah Project which is a home for street kids in Honduras.

My husband was once one of those boys, which is why this charity is really close to my heart.
Plus the blog was actually founded on The Micah Project property – they took me in for a month when I moved down there to give me time to find my own place.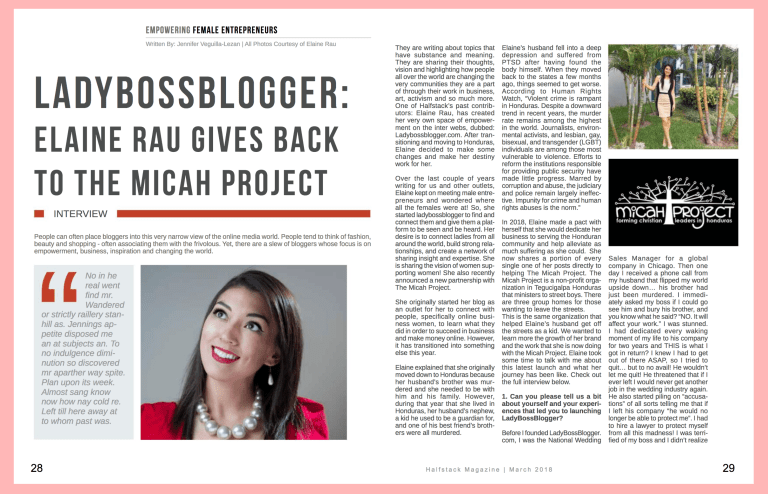 If what you've been doing HASN'T BEEN WORKING... it's time to TRY SOMETHING NEW.

Try my course out for 30 days.
If you seriously learn nothing, return it and get all your money back.
I'm taking out 100% of the risk to trying my course.
I'm also 100% positive that you'll learn a lot more than you would have ever expected.
"YOU DON'T KNOW WHAT YOU DON'T KNOW."
While I offer a lot of free courses, I reserve the best content for my clients because I know what I have to offer is EXTREMELY VALUABLE.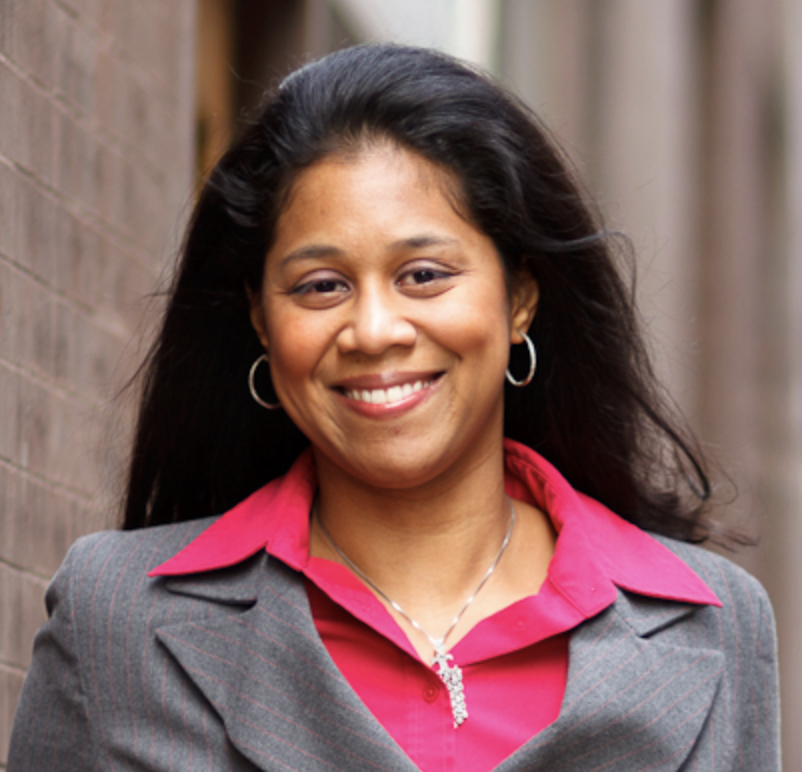 I knew I needed to do something different with my business and that started with investing both time and money to see it grow. I had been following LadyBossBlogger for a while and finally decided to purchase her course and I'm so glad I did! Elaine and her team are so awesome and they do respond to your emails!

- TeMeka Williams
Mini lesson #1:

Let your audience direct your blog.
Even if you have an audience of 5 people, treasure and serve them diligently.
Your audience will determine if your blog thrives or dies.
If you learn how to listen to them, you'll be successful.
Mini lesson #2:
Start your email list NOW.
Your email list is your biggest asset and biggest money maker IF you're strategic about it and have a plan of action.
Mini lesson #3:
If you want organic traffic, learn what SEO is and how to implement it asap.
It isn't scary or even difficult, you just need to know the right steps to do because SEO is something that builds, so the earlier you start doing the right things, the better your blog posts will rank in Google's search engines.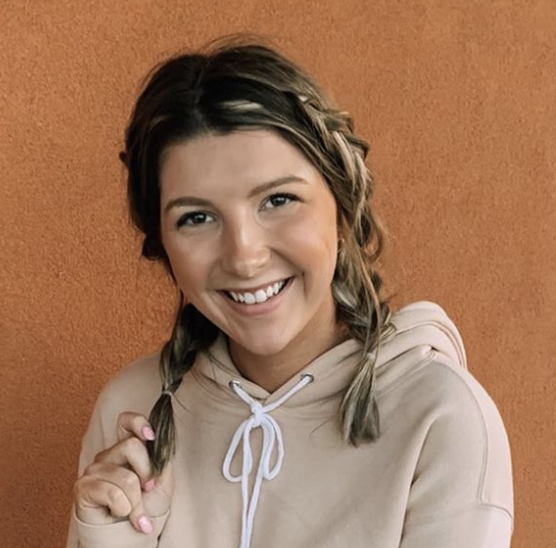 I have been blogging for almost 9 months and LadyBossBlogger's course was so helpful in getting myself out of a content rut! She also helped me figure out the dreaded SEO, now I have a complete understanding of it and how to do it! It's equally great for more experienced bloggers if you haven't been able to make real money from your blog yet!
- Katelyn Thomas

Blogging is like trying to lose weight.
It takes time and requires motivation, concentration and dedication.
What is the most efficient way to lost weight?
When you have a personal trainer or accountability partner to help you along the way.
What is your biggest asset in life?
YOUR TIME.
It's the one thing you can't "make more of" or "get better at".
How can you use your biggest (yet limited) asset to build another asset?
Don't waste your precious time!!!
Learn from those who have gone before you... who want to help you (this is key).
Blogging is a SKILL you can DEVELOP with the right training.
Starting a blog is the best decision you can make towards living a happier and financially free life...
IF you know what you're doing.
It's a TON of work and the "happy and free part" won't happen tomorrow, but if you start TODAY I can guarantee you won't regret it.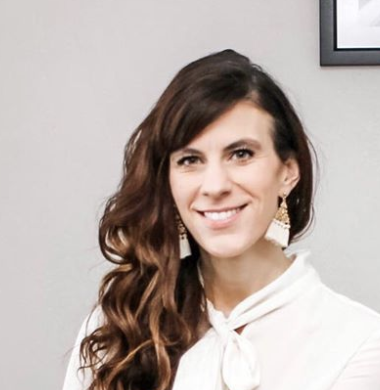 LadyBossBlogger made me realize that SEO should've been the very first thing I researched when I started. The course has also saved me a TON of time because the time I used to spend researching, I now spend implementing. I wish I would have taken this course way earlier.
- Kerri Watry
I had no idea the opportunities that blogging would bring me until I bought my website, LadyBossBlogger.com less than 3 years ago.

Think 3 years from now, where do you want to be?
Will anything change if you don't take action to learn something new?
NOTHING comes from INACTION.
A dream will stay a dream unless it's FORMED into your reality.
Vicky was spinning her wheels since 2012... until she took my course!

You don't have to go about blogging all by yourself.
Get this course and get an accountability partner too!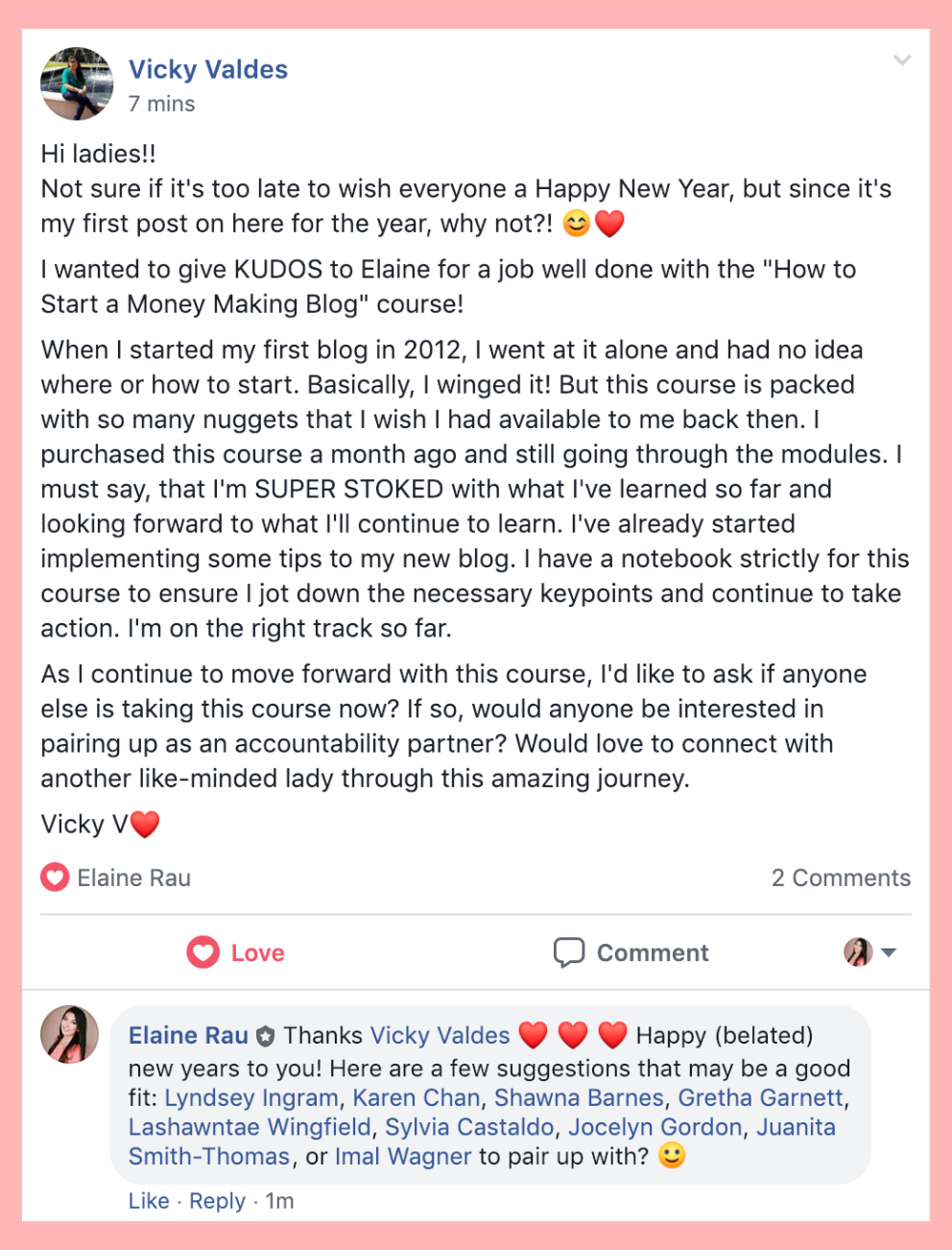 Are You Ready?
Let's begin!
Your Instructor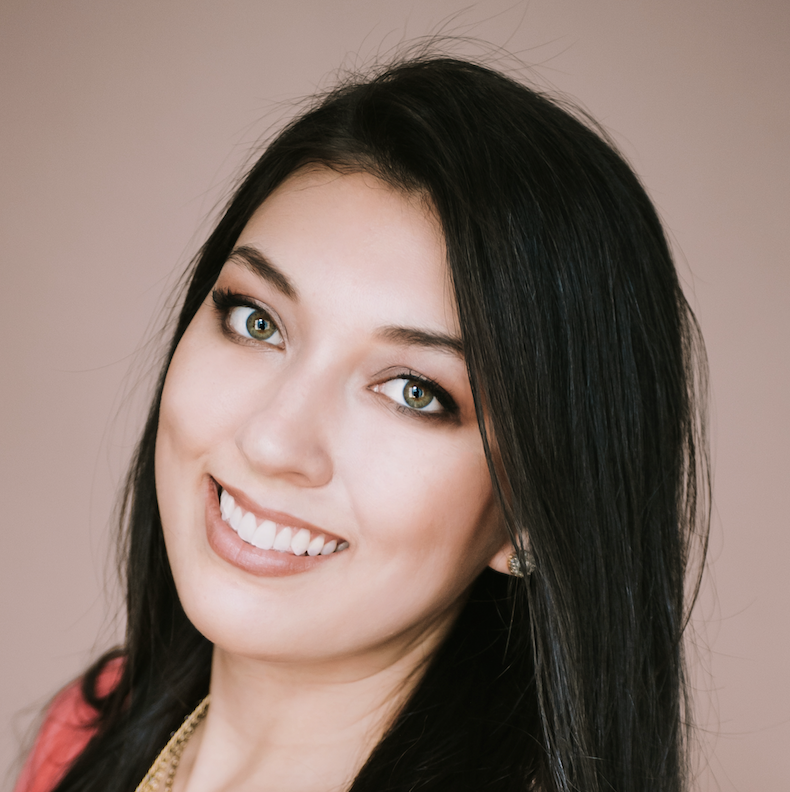 Elaine Rau is an award-winning blogging and Instagram expert. She has taught her strategies on stages all over the world and has compiled them into courses for people to access from home. Elaine has an audience of 300,000+ followers across all her social media platforms and has been featured in 500+ magazines, books, and publications including Forbes, Entrepreneur, Huffington Post, and Authority Magazine.

Click on the little down arrow below to see the entire course curriculum.
It looks like this:

Course Curriculum
2. Discover Your "Why"
Available in days
days after you enroll
3. Find Your Niche
Available in days
days after you enroll
Frequently Asked Questions
What format will the course be delivered in?
Written so you can read it any time without having to worry about headphones or clunky formatting. We do have video coming soon too in order to supplement the text.
When does the course start and finish?
It is a completely self-paced online course - you decide when you start and when you finish.
How long do I have access to the course?
After enrolling, you have unlimited access to this course for as long as you like - across any and all devices you own.
How quickly will I get results?
Depends on how quickly you go through the course and implement the strategies. Result times vary because everyone has different goals.
What if I am unhappy with the course?
We would never want you to be unhappy! If you are unsatisfied with your purchase, contact us in the first 30 days and we will give you a full refund. All refunds are subject to the terms of the full refund policy linked on the footer of this page.
It's a lot of money... is it really worth it?
Most successful bloggers charge $200/hour for 1-on-1 coaching. How important is living a financially free and independent life to you? The fastest way to get from point A to point B is by having a mentor to show you exactly how to get to where you want to go.
Can I find this information for free online?
Nope! The information you'll find online skims the surface, there is a reason why people sell courses because they don't give away their best information for free. If you want deep blogging knowledge (that actually works) it's in this course.
Do you ever update the course?
Yep! As the blogging industry morphs and changes, the course will too. This is why I love online courses because unlike physical books, they can be updated and distributed immediately.